This post brought to you by White Cloud. All opinions are 100% mine.
I'm sure you've heard of White Cloud paper products, available exclusively at Walmart. I have some good news for White Cloud fans… White Cloud now has a new line of laundry detergent!
As a Mom of two elementary aged kids, I'm sure you can imagine the amount of laundry I do. It's amazing how dirty my kids get at school. The amount of food they wear home is ridiculous and the condition of their socks– crazy! (Anyone else's kids come home with their socks completely black? I truly don't know how they manage to get so dirty.)
Since I already use their paper products, I was excited to try out the new detergent. The detergent has a s 3-in-1 Micro Clean Technology composed of an enzyme-based formula, and is ready to battle your toughest stains.
The 3-in-1 Micro Clean Technology contains a pre-treater, stain remover, and color booster all in one, and it comes in three scents: Blooming Lavender, Summer Breeze, and Tropical Fiesta. I decided to go with the Blooming Lavender, it smelled so good!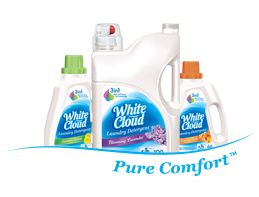 I tested the White Cloud detergent on one of my son's t-shirt that had both chocolate and dirt on it.
White cloud did an excellent job on our stains and the laundry smelled amazing! (Plus I love saving money!)
Now it's your turn. White Cloud dares you to compare their stain removing capabilities versus your usual detergent and are giving you a high value coupon so you can try it out for yourself.
To find where the detergent is sold, use this Store Locator.
(Disclaimer: Limit one White CloudWhite Cloudcoupon per purchase on product specified. No cash back if coupon value is higher than purchase price. Void if reproduced, transferred, used to purchase products for resale or where prohibited/regulated by law. Not valid on trial sizes. Consumer pays sales tax. Redeemable at participating retail stores. Valid only in the U.S.)