Easy Fall Porch Decorating Ideas
Disclosure: This post may contain affiliate links. As an Amazon Associate, I earn from qualifying purchases.
Fall outdoor decor is all about pumpkins, hay and mums. Here are some easy Fall Porch Decorating Ideas to inspire your Fall Porch decor! This post was sponsored by Lowe's as part of an Influencer Activation for Influence Central, and all opinions expressed in my post are my own.
Living in Texas, when it comes to fall decor, it's all about hay bales, pumpkins, big colorful mums and possibly a pair or two of cowboy boots. I don't have a pair of boots I'd be willing to sacrifice to the weather, but I'm definitely all about the pumpkins and mums.
I'm not much of an outdoor Halloween decorator. I much prefer to go with a fall theme.
Two reasons. Number one, a fall theme starts in September, works for Halloween too and will take us all the way through Thanksgiving. Reason number two, I have a tender heart and can't bear the thought of a spooky display frightening the young children in the neighborhood.
True story, when my son was around 2, several of our neighbors at the time (3 houses ago and my son was the youngest in the group) had some scary-ish Halloween decorations on display. (Hanging from trees, making scary noises, that sort of thing…) So for the entire month of October that year, my sweet baby refused to go outside with his eyes open.
I tried everything, strapping him into both his stroller and wagon so he could keep his eyes closed and I could still a have a few minutes to chat with the other moms. Unfortunately, he would cry because he wanted out of the stroller. I would take him out, but then he would just stumble around with his eyes closed falling over everything. I could not get him to open his eyes, no matter what! It was pitiful to watch, and I finally had to give up, lol. So, lesson learned – no scary decor. (One of the neighbors did take down her tree hanging display, but it was too late.)
When we sold our house and moved this past spring, we ended up tossing most of our Halloween and fall porch decor items. All my decorations had been purchased in 2010 or earlier, and everything was looking pretty shabby.
We've got a great big new Lowes down the street and Hubby and I were feeling the urge to spruce up the porch for fall. Lowes has a great selection of Fall and Halloween decor, so we headed over to grab a few items to liven up our front porch.
We don't have a lot of room around the doorway, so to spice up the entry we added a fresh and cheery fall themed doormat, mums and a few small pumpkins. It looks so cute – I love this doormat!
Our front porch also has an open area over to the side where we have a little table and two chairs. The school bus stops right in front of our house, so you'll often find the missy and me hanging out here in the morning. She'll eat her breakfast and I like to drink my coffee as we wait for the bus.
I found some adorable throw pillows that went perfectly with the chairs. There were several styles to choose from and for the price, I couldn't even make a pillow like this.
To the rest of the area, I added a hay bale, lots of pumpkins and more greenery. (The kids have been begging to carve some of these pumpkins. They are very inexpensive, so I think I'll grab a couple more and we'll carve those instead.)
I love this "Give Thanks" resin pumpkin. It's always handy to have a few decor items you can pull out year after year.
I also added a scarecrow and a fall topiary that lights up.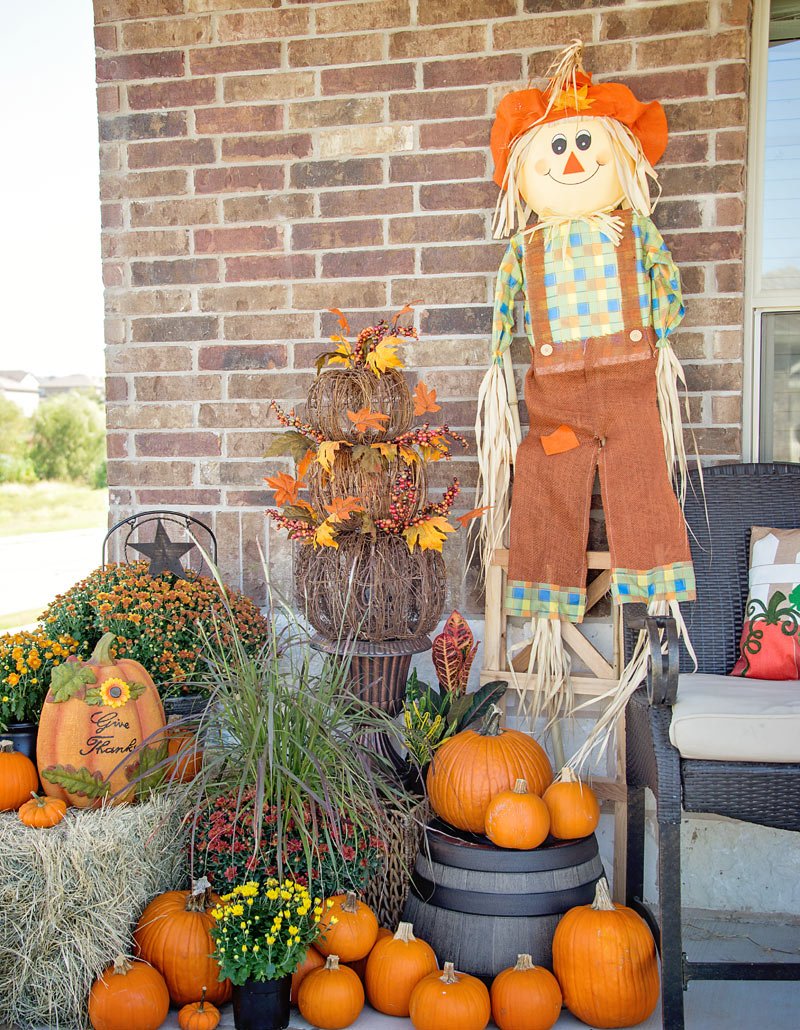 What do you think? Are you ready to do some fall porch decorating? If so, you can shop my post by hovering over the photo above and click the tags for the links, or head over to your local Lowes and see what they have in stock!
One more item I didn't get on this trip, but am thinking about going back for, is one of the Thanksgiving door flags/hangers. We'll be traveling in our trailer for Thanksgiving, and this banner would be perfect for the door of the camper. They had several, but this is the one I want: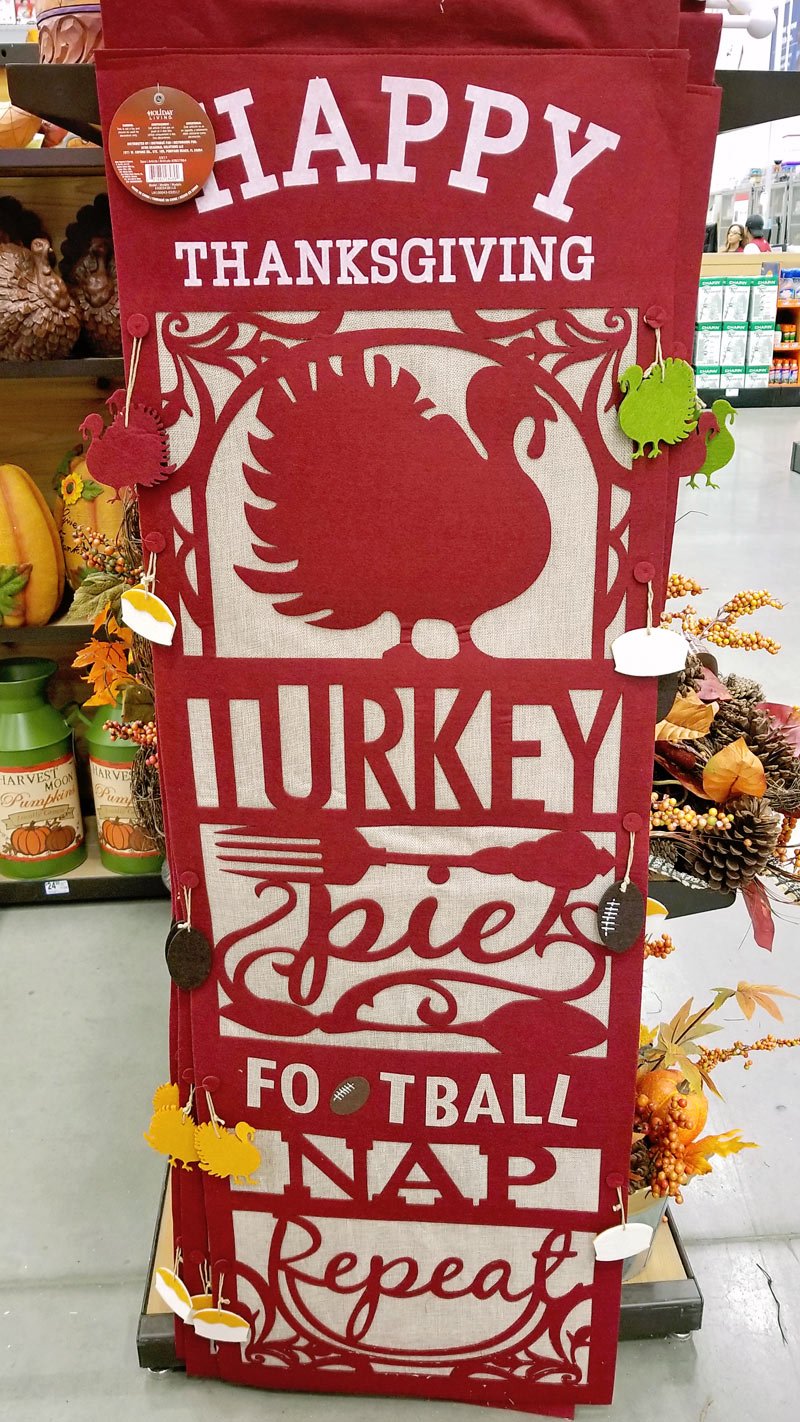 It's your turn! I'd love to know, are you a Halloween or Thanksgiving decorator? Sound off in the comments below.
Don't miss any more posts!
Follow along on:
Feedly, Bloglovin'
, your favorite
feed reader,
or signing up
via email
and have new posts delivered to your email box each week!